For 25 points, identify the following protein: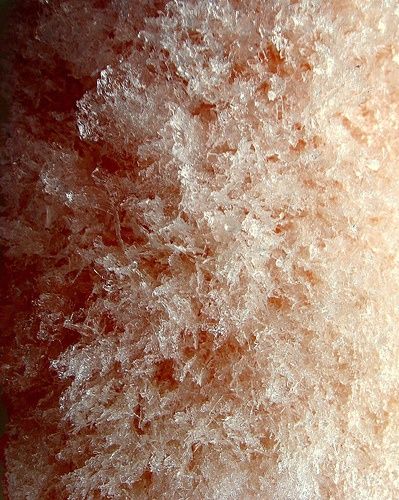 Didn't think so…
Spring is the perfect time for deep cleaning. Shaking off the dust and cold and mold of winter, letting fresh air in – We do it to our homes, (hopefully), and we need to do it to our freezers as well.
Whether you've got just a small one attached to your fridge, or a stand alone unit, it's time to thoroughly clean that beast, inventory what's there with a critical eye, toss what needs to be tossed and cook what must be cooked before that too goes to the great beyond.
This line of reasoning naturally brooks the question, "Can food go bad in the freezer?" The answer to which is a definite 'Yup!'
Keep in mind that freezing does not kill bacteria, yeast, mold, etc – it just pretty much keeps them from multiplying. If there was something funky present prior to freezing, it could indeed reappear when thawed. Additionally, freezing does not do any favors for food quality or taste – over time, great stuff will become good and good stuff becomes that image up yonder.
Before we abandon the 'how long' question for the stuff in the freezer, let's review – When does quality starts to degrade? That depends on what it is, and how well it was packaged, frankly. For answers to this and other freezer questions, hop on over to the USDA's Food Safety site and read for yourself. You'll also find the National Center For Home Food Preservation a wealth of good info, so scope that out too.
In general terms, anything that looks like the image above – an obvious victims of freezer burn due to poor packaging, needs to go. If flesh looks substantially different than it usually does when thawed, (Darker, off color, dried out, etc), then you should give it the heave ho. Trust me when I say if it looks funky, it'll taste funky, and it could well be dangerous.
When you package for freezing, head back to the NCHFP site and read up on best practices.
The time to clear out your freezer is also the time to clean the bugger; this should be done at least annually, (and twice is better yet.) The best time do the deed is when stocks are low – AKA, the end of winter.
Pull everything out and put it into a fridge or cooler(s) while you clean.
Turn off, unplug, and thoroughly defrost your unit.
Once it's to room temp, clean the insides thoroughly; I like a bleach solution for the job, but dish soap and water works fine too. Remove and clean all the shelves, racks, drawers, etc as well.
Do a rinse wipe with a solution of 2 Tablespoons of baking soda to a quart of warm water, then wipe that down with a clean, dry cloth.
Don't forget the unseen parts! Pull the freezer from it's normal locale and clean underneath. Inspect the back and clean that as well, (And the top), and dust the coils if your unit has exposed ones.
If you don't already have one, buy a decent but cheap inside-the-unit thermometer and place in an easy to see spot. Our commercial units have thermometers on them, usually digital, but we don't trust those; every unit, reach in or walk in, has a stand alone thermometer inside it.
Optimal freezer temp for food storage is -15ºF to -5ºF; it should never go above 15ºF for any extended length of time.
Fire 'er back up, let it get fully cold and then put your bounty back in. And don't forget to mark your calendar for the same time next year.
OK, that about covers it – now go have a celebratory beer or two, you deserve it.