Love bacon? Love good bacon? Seen the prices lately? Us too! That little revelation led us to home made, courtesy of Michael Ruhlman.
I started our odyssey with a search for pork belly locally, which wasn't as easy to find as I thought it'd be. Eventually, we found roughly 15 pound packs at Cash and Carry for $3.15 a pound. We took that home, divided it into 2 1/2 pound batches, and went to town.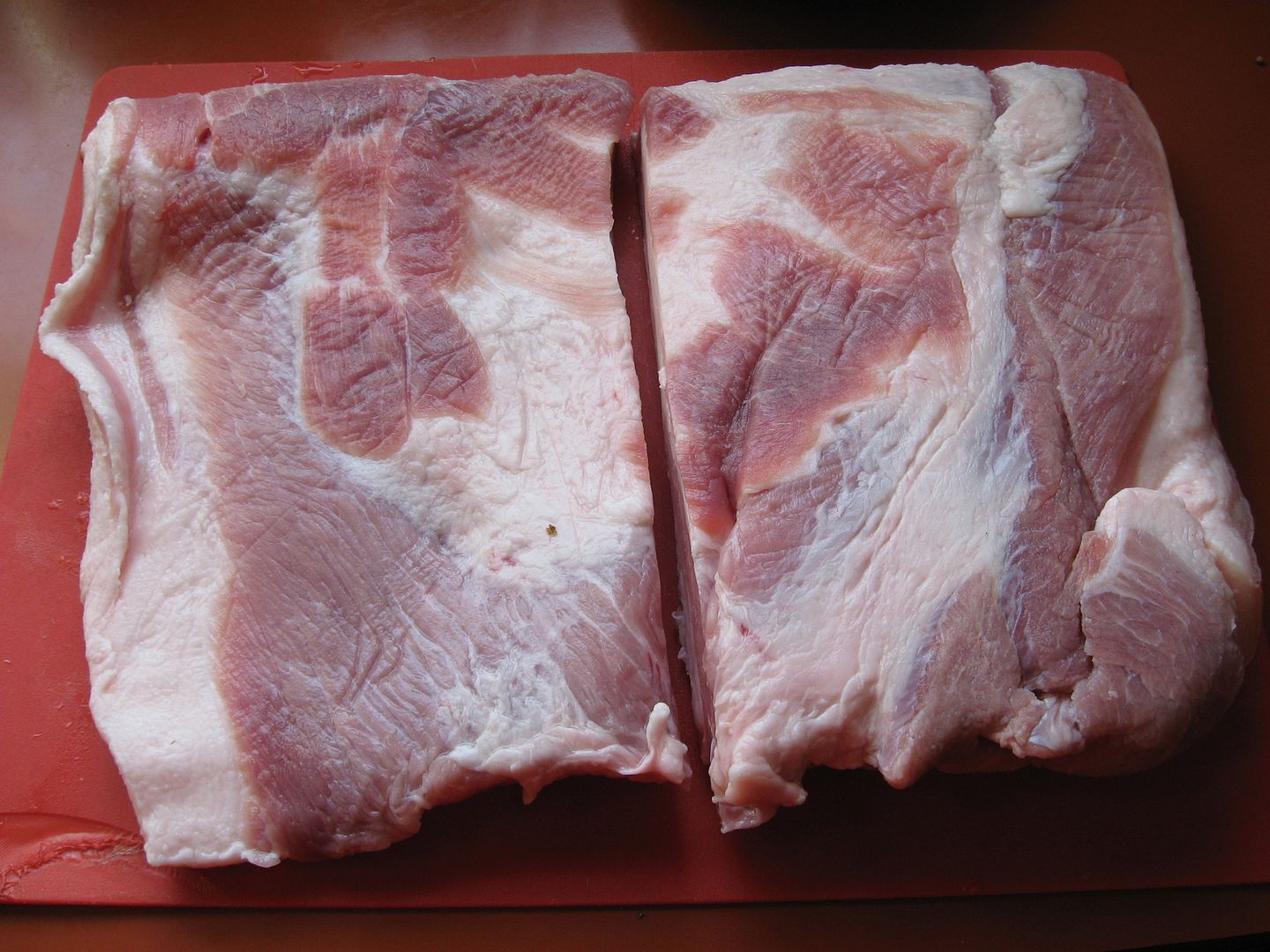 Our first batch was made straight from Ruhlman's recipe. It turned out great, but it wasn't exactly what I want in my perfect bacon. Having no doubt that experimentation is almost always a good thing, we analyzed the results and decided that Ruhlman's would be, for us, perfect lunch and dinner bacon, but not breakfast. We found Michael's recipe a touch salty, even when we'd carefully weighed the pork belly and salt; further, we felt that while the bay leaf, nutmeg, garlic and thyme in that recipe added glorious floral notes perfect for lardons, and stellar for carbonara, it was a bit much for our breakfast palate, so we set out to build our perfect breakfast bacon.
While one needs to stick pretty closely to the 1.5:1 salt to curing salt ratio for proper bacon, you have relative freedom with the other ingredients, so we revamped with our chosen notes, less salt, more sugar, Grains of Paradise for that unique pepper note we love, brown mustard seed for the tang, and a little smoke.
The results were spot on, and we're happy campers!
2.5 pounds Pork Belly
1/4 Cup Dark Brown Sugar or real Maple Syrup
1 Ounces Flaked Salt
1.5 teaspoons Pink Curing Salt, (Sodium Nitrite)
2 Tablespoons Grains of Paradise, coarsely ground
2 teaspoons Brown Mustard seed, coarsely
1 teaspoon Smoke Powder
Mix all dry rub ingredients except the smoke powder together in a bowl.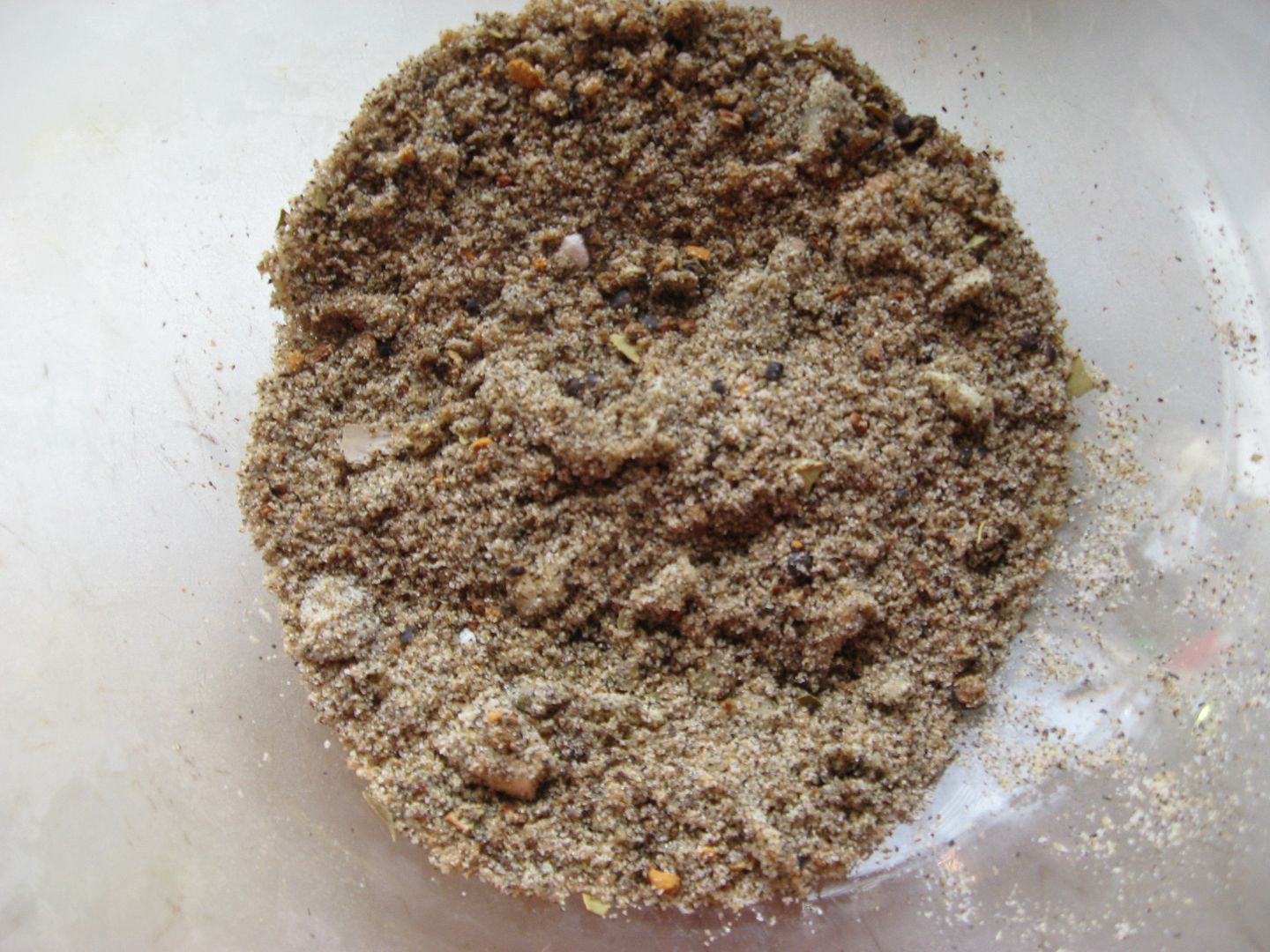 Set your belly on a baking dish or sheet tray.
Rub the cure onto and well into all surfaces of the belly. Take your time and work it right in there evenly and completely.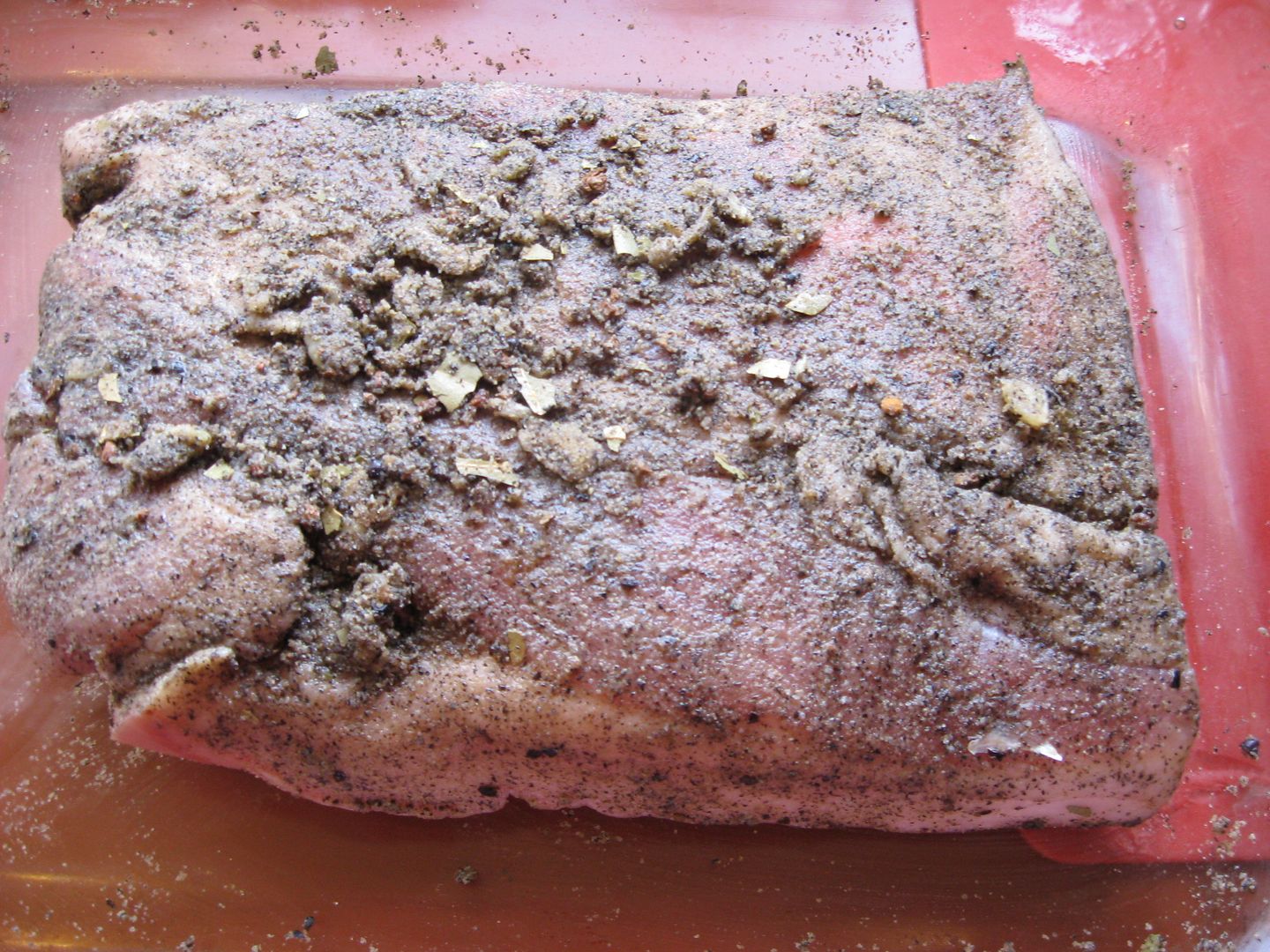 Place your belly into 1 a gallon Ziplock bag, press the excess air out, and set it in the back of your fridge for 3 days.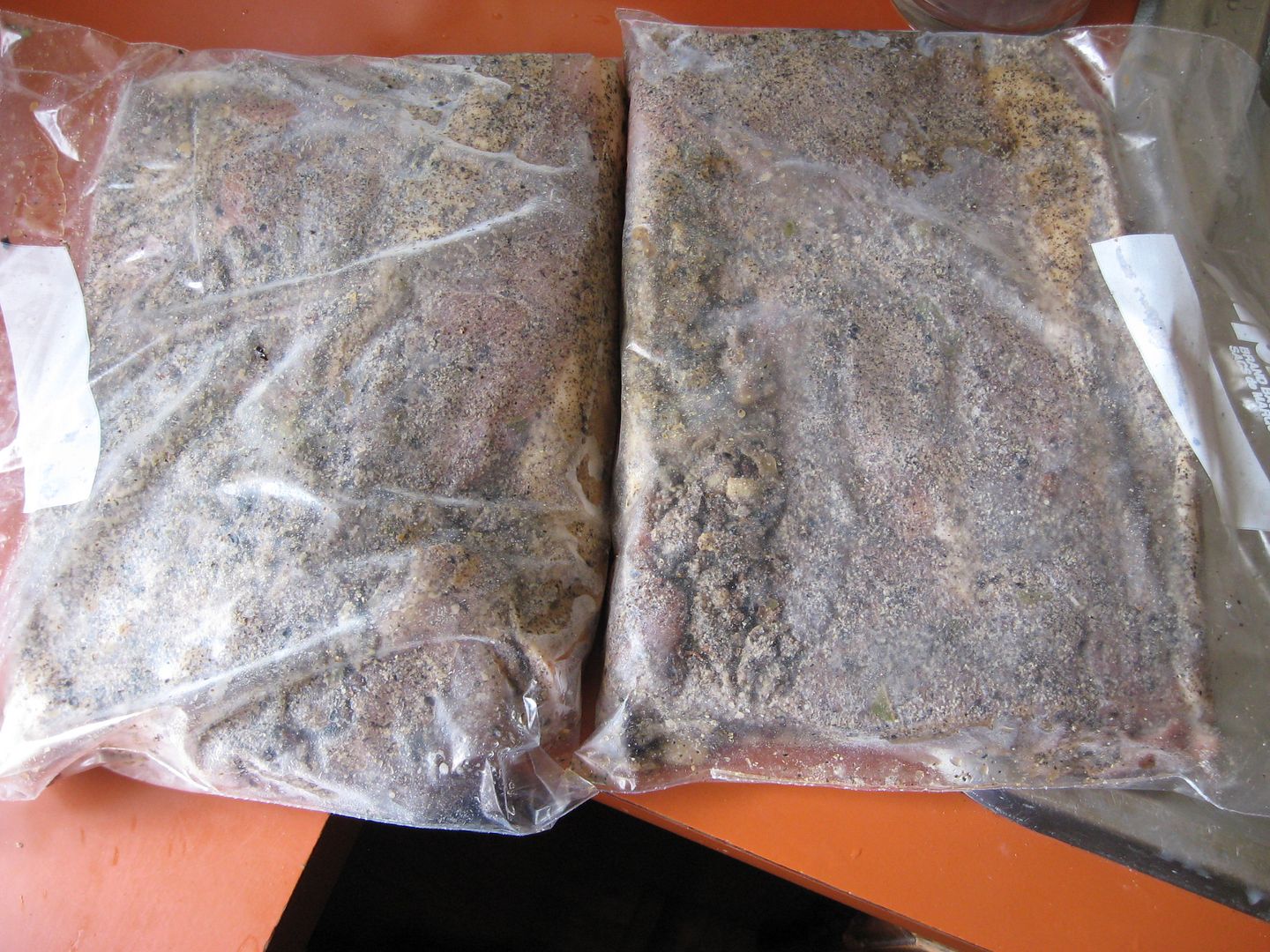 On day 4, pull out your belly and rub everything back into the flesh again. Set 'er back into the fridge for another 3 days.
And on the 7th day, there be bacon…
Pull your belly outta the bag, rinse your sink well and then stick the belly under nice, cold running water and rinse all the cure off, giving it a good rub as you do.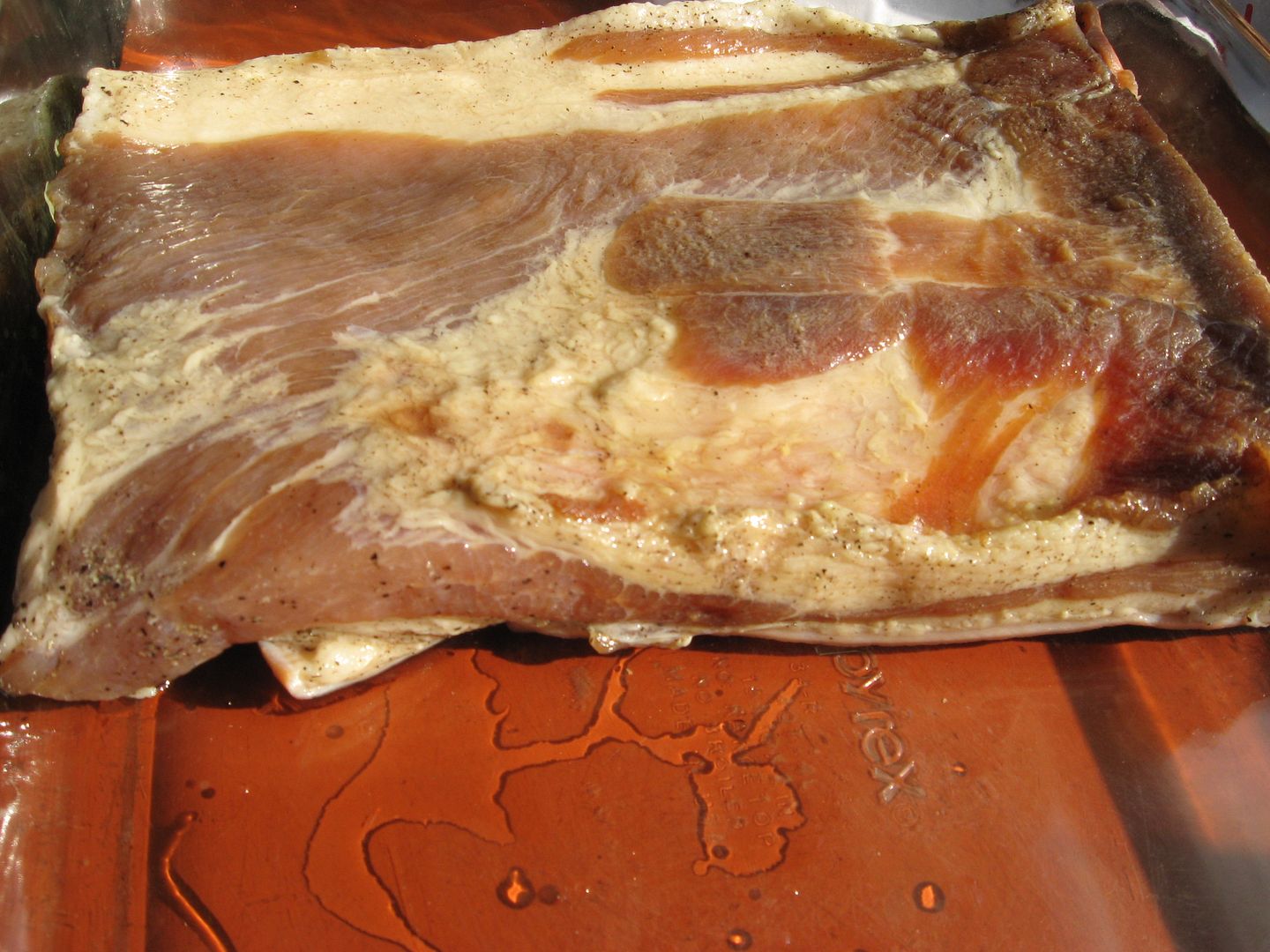 Preheat oven to 200 F.
Pat your belly dry with paper towels and set into a glass baking dish or a sheet pan.
Rub the smoke powder evenly and thoroughly into your belly.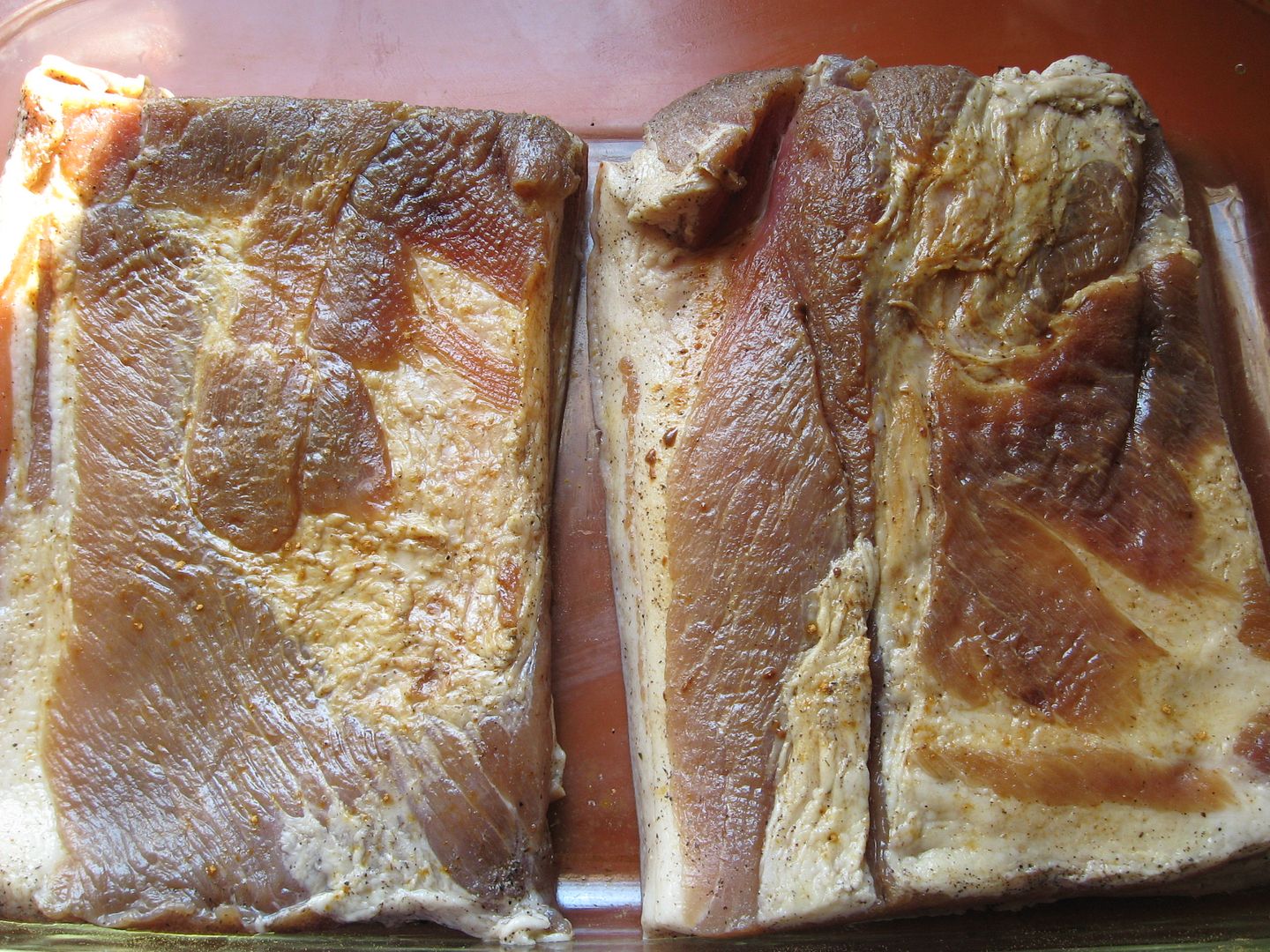 Roast for 90 minutes, or until your internal temp reaches 150 F.
Remove from oven, allow to cool, and then repackage in a ziplock in the fridge. It'll last as long as store bought, or maybe a bit less, since it has less bullshit stuff in it; anyway, I'd bet that after you try it, lasting long won't be an issue…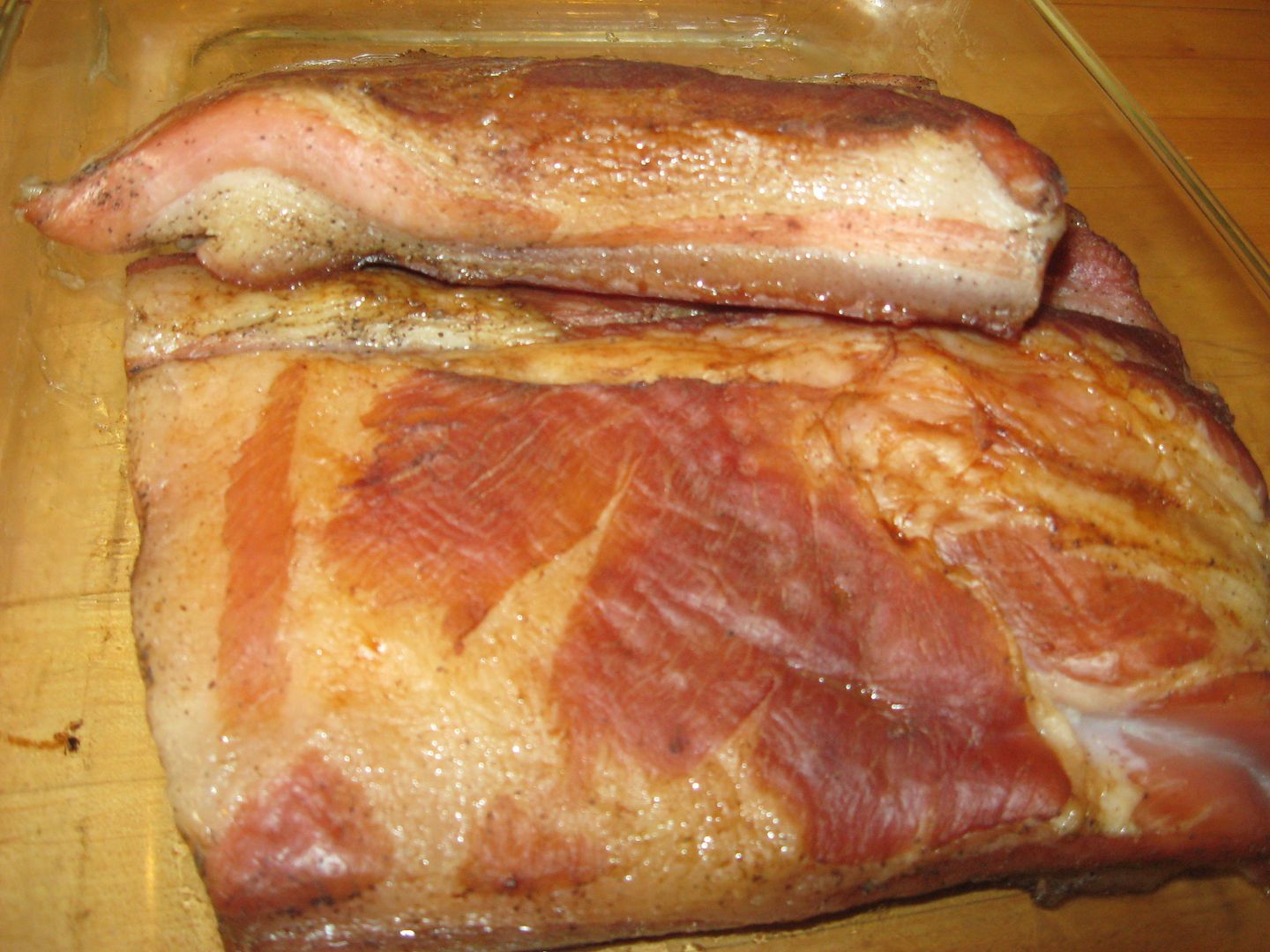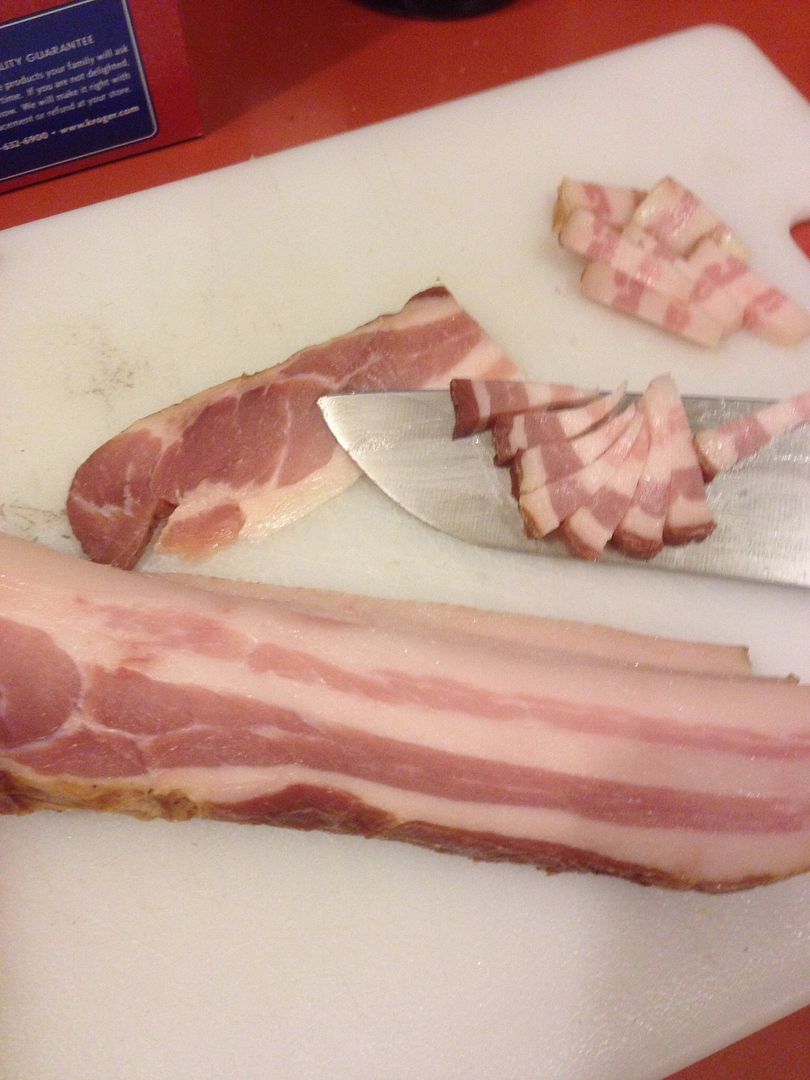 You can freeze bacon, but not for more than about a month. If you do freeze it, you'll want all the air you can out of the bag so, again, vacuum sealing is best.
You can also sub Honey or Agave Nectar for the sugar and get some pretty nice flavor variations. Our family also likes peppered bacon, and for that we'll layer on a bit of olive oil and ground, black pepper for the roast.
Big thanks to Michael Ruhlman for a wonderful charcuterie book, and for encouraging experimentation. Now it's your turn, and make sure you try his recipe, because it rocks and it just might be your all-around fave!
Enjoy!